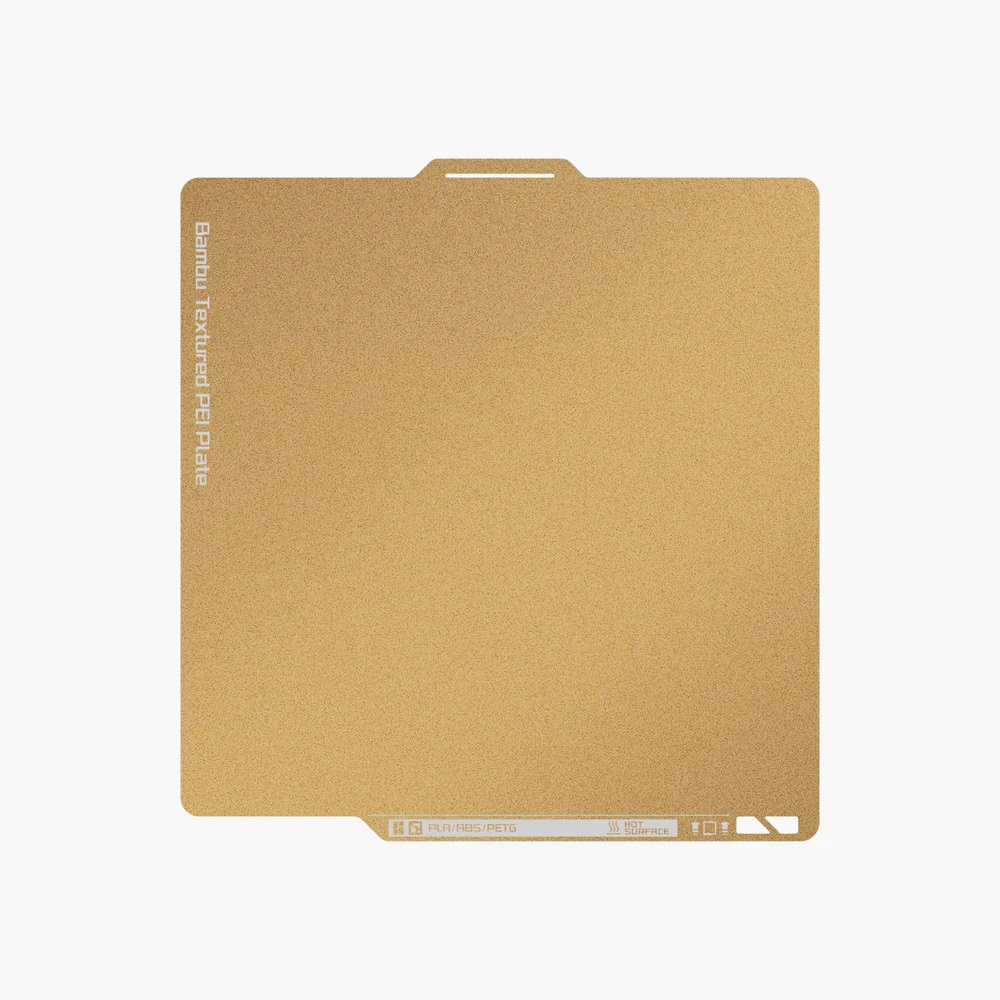 Bambu Lab X1 / P1P Dual-Sided Textured PEI Plate
Kindly note Bambu Lab spare parts are exclusively available for X1C and P1S models acquired through authorized resellers. When completing your purchase, kindly ensure you provide the Bambu Lab serial number at checkout.
Introducing the Bambu Texture PEI Plate – a game-changer for 3D printing. This advanced surface offers enhanced durability, outstanding first-layer adhesion, and compatibility with various filaments. It ensures your prints release effortlessly when cooled down, thanks to PEI's unique properties. Plus, its magnetic adhesion prevents warping and guarantees a reliable print. The textured finish adds a unique touch to your creations. Installation is simple: align and secure.
Material: PEI powder coating + 301SEH Stainless Steel Plate
Surface temperature resistance: Up to 180℃
Flexible stainless steel plate thickness: 0.5 mm
Textured PEI coating thickness: 0.075 mm
Usable print size: 256 x 256 mm
Package size: 300 x 270 x 17 mm
Package weight: 450 g
Color: Gold
Considerations:
Automatic Calibration for Flow Rate on Textured PEI Plate is mostly compatible (OTA version 01.06.01.00 or higher) but may not be as reliable as other plates.
Regularly clean the surface with detergent and water to remove dust or grease residue. If necessary, clean the surface with alcohol.
Do not use Acetone to clean the Textured PEI as it can damage the surface.
Wait a few minutes before removing printed models to allow the plate to cool down, ensuring easy print removal and a longer product lifespan.
The Textured PEI plate is considered a consumable part that degrades over time. The warranty covers manufacturing defects but not cosmetic damage such as scratches, dents, or cracks. Defective sheets upon arrival are covered by the warranty.
Recommended Settings: Please adjust slicer settings as needed based on the printed model and filament requirements.
PLA/PLA-CF/PLA-GF:

Heatbed Temperature: 45~60℃
Glue Stick Required: No
Upper Glass Cover Plate Removed: Yes

ABS:

Heatbed Temperature: 90~100℃
Glue Stick Required: No
Upper Glass Cover Plate Removed: No

PETG/PETG-CF:

Heatbed Temperature: 60~80℃
Glue Stick Required: No
Upper Glass Cover Plate Removed: No

PET-CF:

Heatbed Temperature: 80~100℃
Glue Stick Required: No
Upper Glass Cover Plate Removed: No

TPU:

Heatbed Temperature: 35~45℃
Glue Stick Required: Yes
Upper Glass Cover Plate Removed: Yes

ASA:

Heatbed Temperature: 90~100℃
Glue Stick Required: No
Upper Glass Cover Plate Removed: No

PVA:

Heatbed Temperature: 45~60℃
Glue Stick Required: No
Upper Glass Cover Plate Removed: Yes

PC/PC-CF:

Heatbed Temperature: 90~110℃
Glue Stick Required: Yes
Upper Glass Cover Plate Removed: No

PA/PA-CF/PAHT-CF:

Heatbed Temperature: 90~110℃
Glue Stick Required: Yes
Upper Glass Cover Plate Removed: No