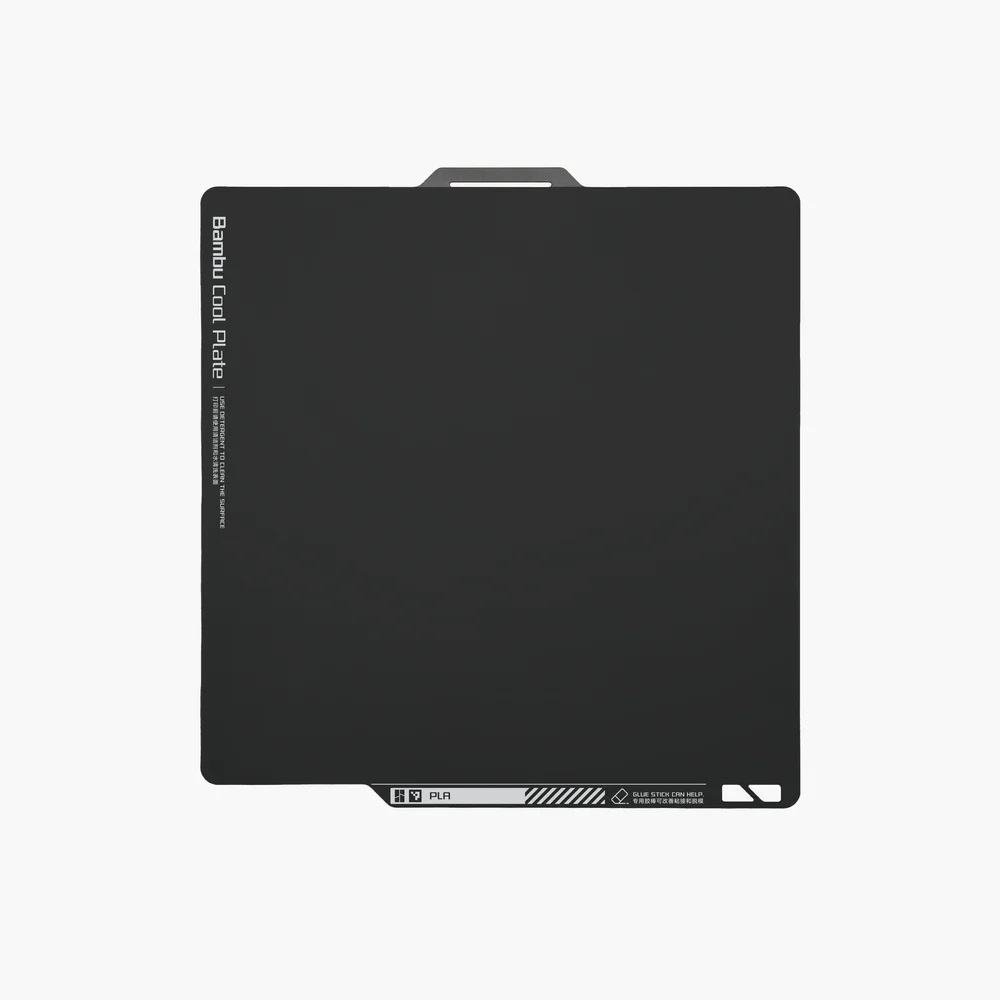 Bambu Lab X1 / P1P Cool Plate
Kindly note Bambu Lab spare parts are exclusively available for X1C and P1S models acquired through authorized resellers. When completing your purchase, kindly ensure you provide the Bambu Lab serial number at checkout.
Benefits:
This product offers several notable advantages for 3D printing enthusiasts. It excels when used with low glass transition temperature filaments, enabling efficient printing at lower temperatures. Additionally, it seamlessly integrates with Automatic Calibration for Flow rate while avoiding any interference with the LIDAR system, ensuring precise and uninterrupted printing. One of its standout features is the ability to consistently produce prints with a smooth surface texture, enhancing the overall quality of your creations. Furthermore, it provides excellent adhesion to the print bed, guaranteeing secure attachment while maintaining ease of print removal. To top it off, the product is designed with user convenience in mind, allowing for straightforward replacement when necessary.
Downsides:
However, it's essential to consider some potential drawbacks. To prevent surface damage, the use of a glue stick is recommended when using this product, which may be seen as an additional step for some users. Moreover, caution is advised when working with high-temperature materials, as bubbles can form underneath the print surface, potentially leading to damage. In such cases, more robust alternatives like the Engineering Plate or Textured PEI Plate might be a better choice. While this product offers many advantages, its suitability depends on your specific 3D printing needs and materials, and users should weigh these benefits against the potential downsides.
Installation Steps:
Begin by aligning the plate with the fixed points of the platform, ensuring the plate's name is facing you.
Lower the plate onto the platform and securely attach it to the magnetic platform.
Product Specification:
Surface temperature resistance: Up to 120℃
Usable print size: 256 x 256 mm
Flexible spring steel thickness: 0.5 mm
Cool Plate sticker thickness: 0.4 mm
Package Weight: 320 g
Package size: 290 x 290 x 4 mm
Considerations:
Minor variations in the color and luster of the Engineering Plate's appearance and the removal of exposed metal areas are normal adjustments to optimize production and surface quality.
Before auto-leveling, ensure thorough cleaning of the nozzle in the designated wiping area of the build plate to remove any residual material.
Over time, the coating in the wiping area will naturally wear, which does not affect print quality, leveling, or adhesion.
Use only Bambu Lab official glue on the Cool Plate to avoid potential damage.
Regularly clean the print surface with dish soap and hot water or IPA to maintain optimal adhesion.
Allow the plate to cool down for a few minutes before removing printed models to prevent damage and ensure product longevity.
Note that the Bambu Cool Plate is considered a consumable part, and the warranty covers manufacturing defects only, excluding cosmetic damage like scratches, dents, or cracks. Defective sheets upon arrival are the only exceptions covered by the warranty.